Roger Hodgson: souvenirs, souvenirs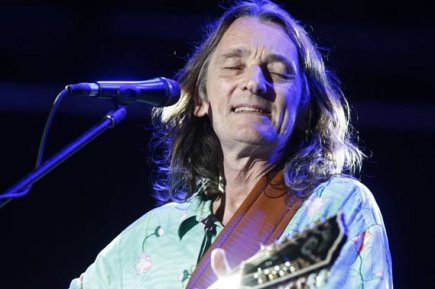 Roger Hodgson, en chemise à fleurs, entouré de palmiers, nous donnait l'impression d'un voyage dans le Sud.
Photo Le Soleil, Laetitia Deconinck
Valérie Lesage
Le Soleil
(Québec) Pour qui n'avait jamais vu Supertramp en concert, hier sur les Plaines, c'était pareil comme si... Il y a des rendez-vous avec le passé qu'on accueille avec bonheur, bonheur partagé par plusieurs milliers de gens; l'endroit paraissait pas mal rempli.
Une brise fraîche soufflait sur les Plaines, mais Roger Hodgson, en chemise à fleurs, entouré de palmiers, nous donnait l'impression d'un voyage dans le Sud. C'était au bord du kitsch, mais les éclairages étaient si beaux qu'on regardait les plantes vertes d'un autre oeil!
Le chanteur, dont la voix est toujours aussi bien capable de soutenir les très hautes notes, s'est adressé à nous en français presque tout au long du concert. «Laissez-moi donner un petit morceau de mon amour à vous», a-t-il lancé à la foule, ravie, avant d'entonner la superbe Give a Little Bit avec ses musiciens.
Hodgson a donné au public de Québec - qui lui est cher parce que le succès de son groupe a commencé ici - toutes les chansons qu'il pouvait espérer entendre, tous ces classiques que sont devenus Dreamer, Logical Song, Breakfast in America et bien d'autres encore.
Avant le rappel, la foule a chanté des «ohé ohé» et a offert une grande vague d'amour à l'artiste, qui a servi alors les sublimes School et It's Raining Again.
On peut songer que Hodgson pourrait se renouveler, mais en même temps, il a créé des mélodies et un répertoire si géants qu'on ne peut qu'applaudir son génie musical. Et se compter chanceux d'avoir été là hier soir.
---
Roger Hodgson: Memories, Memories
Roger Hodgson, flowered shirt , surrounded by palm trees, gave us the impression of a trip south.
(Québec) For those who have never had the chance to see Supertramp in concert, yesterday on the "Plains" it felt almost like attending one of their concerts. It's a rendezvous with the past which we welcome with joy, joy shared by thousands of people, the place appeared to be pretty packed.
A cool breeze blew across the "Plains", but Roger Hodgson was wearing a shirt with flowers and was surrounded by palm trees, it felt like he was taking us with him on a journey south. It was on the verge of kitsch but the lighting was so beautiful that it made you look at the green plants from a completely different perspective.
The singer whose voice is still perfectly capable of hitting those very high notes addressed us in French for almost throughout the whole concert. "Let me give a little bit of my love to you" he told the enthused crowd before playing the marvelous Give a Little Bit with his band.
The audience of Québec - they are very dear to Hodgson because the success of his band has started here - got all the songs they could have hoped for, all those songs which have become classic hits like Dreamer, Logical Song, Breakfast in America and many more.
Before the encores, the crowd chanted "ole ole" and they extended a huge wave of love to the artist who then played the stunning School and It's Raining Again.
One would maybe wish that Hodgson should revolve but at the same time, he has created giant songs and a giant repertoire, so that you simply have to acclaim his musical genius. And count yourself lucky for having had the opportunity to be there last night.