Review: Roger Hodgson in Auckland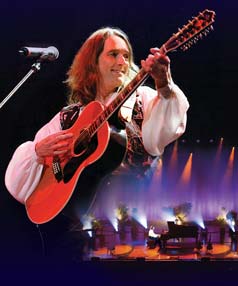 ALL THE HITS: Roger Hodgson, in a publicity photograph.
Roger Hodgson showed that it's the voice that matters as he brought Supertramp to life again in Auckland. Duncan Johnstone was there.
Roger Hodgson
Where: Aotea Centre, Auckland
When: Wednesday, April 15
Roger Hodgson ripped into one of his signature songs Take The Long Way home and then made a confession to his New Zealand fans.
"It really does feel like I have taken the long way home. It's been 1976 since I was last here and I'd almost forgotten how beautiful it is," the 60-year-old told the packed Aotea Centre in Auckland.
Better known as the voice of Supertramp and composer of most of their hits, he then promised a trip down memory lane. He didn't disappoint, fulfilling his aim to link songs to moments gone by in an audience clearly of his generation but also with a smattering of youth - testimony to the durability of his songs.
If you've got the voice, who needs the band? That's certainly Hodgson's theory. His high-pitched voice is indeed unique and when he's got most of Supertramp's extensive playlist up his sleeve it's a winning formula that has survived the test of time.
And any fears that the famous tracks may lack depth without his famous friends were quickly put to rest by Aaron MacDonald, who is a one-man backing band for Hodgson.
The young Canadian lured the audience with some sweet harmonica to help start the opening track and by the time he had blasted out a magnificent effort on the sax this was clearly going to be an evening of rich entertainment.
MacDonald's backing vocals were spot-on and he provided the necessary touches by way of the synthesizer, an ensemble of brass instruments and the piano.
Not that Hodgson isn't multi-talented either. He had started out with Supertramp way back in 1969 as a bass player.
Last night he opened up on the organ, picked up the guitar for his massive hit Give a Little Bit and was then on the piano for Lovers In The Wind.
Three songs, three different sounds and an instant reminder of his staggering abilities as composer and lyricist.
He sprinkled a few numbers from his solo career that has spluttered along since 1984.
But it was the old Supertramp songs the crowds were there to hear - and there were plenty of them.
Don't forget, this is a guy responsible for selling more than 60 million albums.
Sister Moonshine, The Logical Song and Breakfast In America were all belted out with such precision that if you closed your eyes you'd swear you were back in the 70s with the turntable in full swing.
Hodgson knew he had the audience in his hands when they were whistling as one to Easy Does It.
By the time he got to Dreamer he had a few fans up off their feet. There were mesmerised for his marvellous finale of Fool's Overture and predictably cried out for more.
When Hodgson and MacDonald returned for the encores they had the crowd dancing in the aisles for School and It's Raining Again.
The show finished with a massive sing-along as Hodgson repeated Give A Little Bit, a song that has captured charities around the world.
As Hodgson enthused over his two-hour performance: "This is why I do it. I hope to see you again soon."