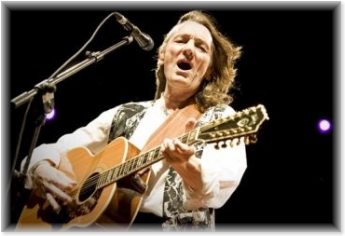 ROGER HODGSON REMEMORA EN MADRID LOS GRANDES EXITOS DE SUPERTRAMP
Por JAVIER FERNANDEZ JODAR
Crónica distribuida por la Agencia EFE
30 de Julio de 2010
Roger Hodgson, cofundador y autor de la mayoría de los grandes éxitos de Supertramp, acudió a su cita en Los Veranos de la Villa con el genial repertorio que llevó a la banda británica a convertirse en una referencia del rock progresivo durante los 70 y los 80.
El artista nacido en Porstmouth se presentó a las diez de la noche en el Escenario Puerta del Angel con toda la magia que desprenden clásicos como "Give a little bit" o "Take the long way home", la canción con la que Hodgson comenzó su concierto.
El cantante estuvo acompañado durante sus dos horas de actuación por el multi-instrumentista canadiense Aaron MacDonald, quien brilló juntó a Hodgson y demostró su versatilidad con los teclados, la flauta y el saxofón.
El fuerte viento que sopló ayer en la capital de España provocó que la puesta en escena, siete árboles que rodeaban a ambos músicos, fueran cayendo al suelo uno detrás de otro, un factor atmosférico que sirvió para que Hodgson bromease y exigiera que le fijaran de alguna forma al suelo.
"Lovers in the wind", perteneciente a "In the eye of the storm" (1984), fue el primer tema seleccionado de la obra del artista como solista, quien también publicó, desde su salida de Supertramp, los discos "Hai Hai" (1987) y "Open the door" (2000), del que rescató la bella composición "Along came Mary".
Gracias a "Easy does it" el público colaboró estrechamente con Hodgson al silbar la melodía que introduce la canción, una muestra más de la implicación de una audiencia que se volcó con el artista desde el principio.
"Sister Moonshine", "Know who you are", "Breakfast in America" o "A soapbox opera" dan buena cuenta del legado musical que la banda británica ha dejado tras de sí. Un repertorio del que Hodgson se siente orgulloso y que defiende pese a que hace más de 27 años abandonara el mítico grupo.
"Durante toda mi vida me hecho preguntas como por qué estamos aquí o cuál es la razón de nuestra existencia. Doce años en la escuela no me ayudaron mucho a resolver estas cuestiones", aseguró Hodgson al auditorio madrileño, quien se dispuso a escuchar "The logical song".
Una de las constantes de la noche fue la fluida comunicación entre los espectadores y Hodgson, quien definió al público español como "muy caluroso".
"Quiero cantar una canción que no he grabado todavía. Cuánto más viejo me hago más me doy cuenta de que la persona a la que más cuesta perdonar es a una misma", admitió Hodgson, quien descubrió el tema "The awakening", una rareza que, pese a ser habitual en sus actuaciones, no forma parte de ninguno de sus trabajos.
Los olés del público puesto en pie fueron el mejor síntoma de la gran actuación de Hodgson en Los Veranos de la Villa, quien se sintió encantado por la presencia de los creadores de las webs de fans del artista en España, a quienes dedicó un sincero agradecimiento en forma de canción con "Dreamer".
Los diez minutos de duración de "Fool's overture" y "School" confirmaron la tremenda resistencia que tienen las canciones de este compositor para resistir el paso del tiempo. Hodgson de despidió con "It's raining again", un corte de "Famous last words", el último trabajo del músico en compañía de Supertramp, la banda de la que puede ser considerado el gran cerebro creativo.
---
ROGER HODGSON RECALLS THE SUPERTRAMP HITS IN MADRID
By JAVIER FERNANDEZ JODAR
Review distributed by EFE News Agency
July 30, 2010
English translation by Abel Fuentes
Roger Hodgson, cofounder and writer of most of the hits by Supertramp, met his date with Los Veranos de la Villa using the great list of songs that made the British band becoming a reference of prog-rock during the 70s and 80s.
The artist from Portsmouth appeared at ten o'clock on stage at Puerta del Angel to bring the magic of classics like "Give a little bit" or "Take the long way home", the song Hodgson started his show with.
During the two hours of his performance, the singer was accompanied by the Canadian multi-instrumentist Aaron MacDonald, who shone along with Hodgson and showed his ability with keyboards, flute and saxophone.
The wind that was blowing yesterday in Madrid caused that the seven trees which were on stage falled on the floor one by one, so Hodgson joked about it and asked someone to fix him to the floor.
"Lovers in the wind", from the album "In the eye of the storm" (1984), was the first song from his solo career to be performed. After leaving Supertramp, Hodgson also released "Hai Hai" (1987) and "Open the door" (2000), which he played "Along came Mary" from.
Thanks to "Easy does it", the people collaborated with Hodgson by whistling the melody that can be listened at the beginning of the song. It was just another proof regarding the affinity of the audience towards the artist.
"Sister Moonshine", "Know who you are", "Breakfast in America" or "A soapbox opera" proved the great musical legacy of the British band. This is a set-list that Hodgson is proud of, and he is always playing it although he left the mythic group 27 years ago.
"All of my life I have been asking questions: Why are we here? What is the reason for living? I was not able to find the answers during twelve years at school", said Hodgson to the auditorium before playing "The logical song".
One of the most relevant things during the show was the fluent communication between the audience and Hodgson, who said the Spanish people is "very warm".
"I want to play now an unreleased song. As I get older, I realize that the person who is hardest to forgive is yourself", said Hodgson when he was going to play "The awakening", a rarity that, although is usual during his shows, has not been recorded yet.
Seeing the audience on their feets and singing "olés" was the best evidence of the great show Hodgson played at Los Veranos de la Villa. He was delighted by the presence of their Spanish fans websites creators, whom he said thanks with the song "Dreamer".
The ten minutes of "Fool's overture" and "School" confirmed that his songs have stood the test of time. Hodgson said goodbye with "It's raining again", a track from "Famous last words", his last work with Supertramp, the band he can be considered as the creative brain of.