Festival de la Guitarra 28 edición.ENTREVISTA al MUSICO
Roger Hodgson: "A mis canciones no las veo viejas, disfruto con ellas más que hace 30 años"
17/07/2008 JULIA GARCIA HIGUERAS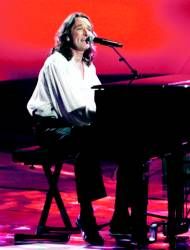 NACIMIENTO PORTSMOUTH (INGLATERRA), 1950
CARRERA MUSICO, CANTANTE Y LETRISTA. DESDE LA FUNDACION DE SUPERTRAMP EN 1969 HASTA 1983, COMPUSO LOS MAYORES EXITOS DEL GRUPO, CON LOS QUE VENDIERON 60 MILLONES DE DISCOS
La Axerquía recibe hoy a otra leyenda viva de la música, Roger Hodgson, antiguo integrante de Supertramp.
--¿Cómo va a ser su espectáculo en Córdoba?
--Vengo con mi espectáculo en solitario, recogido en un DVD, del que ha disfrutado el público de todo el mundo. La gente dice que el sonido que hago con mi amigo de Canadá Aaron MacDonald es muy rotundo. Es un concierto único, muy íntimo en el que a la gente le gustará escuchar las canciones tal y como yo las escribí. Es más emocionante que cuando hay muchos más músicos. Tocaré canciones como Give a little bit , Dreamer , Logical song , Take the long way home , It´s raining again y otras más. Mis canciones son como hijas pequeñas para mí, no las veo viejas y disfruto con ellas más que cuando las cantaba hace 20 ó 30 años.
--¿Qué recuerdos guarda de su etapa en Supertramp?
--He escrito muchísimas canciones y algunas de ellas las grabé con Supertramp. Fue una época fantástica, una experiencia maravillosa que duró 14 años. Después de Supertramp aprendí a ejercer de padre y a estar con mis hijos mientras crecían. Como ahora he vuelto a la música, me veo principalmente como compositor y cantante. Estoy contento de haber tomado esas decisiones.
--¿Qué le parece el Festival de la Guitarra de Córdoba?
--Suena maravillosamente. Me gustaría quedarme más tiempo para estar con profesores y guitarristas para intercambiar impresiones. No podré estar demasiado tiempo, pero espero que mi sello personal al tocar la guitarra de 12 cuerdas contribuya a inspirar a los guitarristas jóvenes que haya entre el público.
--Toca la guitarra desde niño. ¿Qué significa para usted?
--La guitarra fue mi primer instrumento. Especialmente, la de 12 cuerdas siempre me ha cautivado: tiene un sonido orquestal muy rico que me permite involucrarme en la música y componer mucho.
--Su hijo Andrew es músico también. La pasión por la música no cesa en su familia. ¿Cómo se siente?
--Mi hijo Andrew nació con la música en las venas y con 5 años ya tocaba It´s raining again al piano con un dedo. El es feliz por pertenecer a una familia tan ligada a la música porque le ha permitido descubrir su propio estilo. Soy su mayor fan.
--¿Cómo ve la música actual?
--La música es una modalidad artística muy especial. Su verdadero propósito es alimentar al corazón y al alma. La música que me llega es la que me hace llorar, reír, bailar... Desgraciadamente, ahora el interés está más en lograr ser una estrella con éxito que en hacer lo que te gusta. La gente tiene necesidad de escuchar música que le llegue de un modo profundo. Con internet la industria está cambiando. Veremos hacia dónde va, pero mi consejo para los artistas que empiezan es que sean fieles a su vocación.
---
Roger Hodgson: "I don't see my songs as old ones. I enjoy them today more
than 30 years ago"
By JULIA GARCIA HIGUERAS
Posted in "DIARIO DE CORDOBA"
July 17th 2008
Born in Portsmouth (England) in 1950, Roger Hodgson wrote the greatest hits of Supertramp since the band was founded in 1969 until he left in 1983, selling more than 60 million albums. La Axerquia welcomes today this music legend.
QUESTION: How will your show be in Cordoba?
ROGER: It will be one of my solo shows like you can see in my DVD, which many people in the world have already enjoyed. People say that the sound I make with my Canadian friend Aaron MacDonald is very categorical. It's a unique and intimate show and people listen to the songs in the way they were when I wrote them. It's more touching than when there are many more musicians. I'll play songs like 'Give a little bit', 'Dreamer', 'Logical song', 'Take the long way home', 'It´s raining again' and many more. My songs are little babies for me, I don't see them as old songs and I enjoy them more than when I sang them 20 or 30 years ago.
QUESTION: What memories do you have from your Supertramp times?
ROGER: I have written lots of songs and I recorded with Supertramp some of them. That was for me a fantastic era, a wonderful experience that lasted 14 years. After Supertramp, I learned to be a father and to be with my children
during their growth. Now I have returned to music and I see myself as a composer and a singer. I'm happy that I made those decisions.
QUESTION: What do you think about Cordoba Guitar Festival?
ROGER: It sounds very good. I'd like to be here more time to exchange impressions with the teachers and the guitarists. I can't be here for too long, but I hope my style playing 12-string guitar can help to inspire the young guitarists in the audience.
QUESTION: You played guitar since you were a child. What does it mean for you?
ROGER: Guitar was my first instrument. I have always been in love with the 12-string guitar because it has a very orchestral and rich sound that allows me being involved with the music and writing many songs.
QUESTION: Your son Andrew is a musician too, so it seems your family has a passion for music. How do you feel about it?
ROGER: My son Andrew was born with the music in his veins. When he was 5 years old he was able to play 'It's raining again' at the piano with just one finger. He is very happy for being part of a family which is attached to music. That allowed him to find his own style. I'm his biggest fan.
QUESTION: How do you see current music?
ROGER: Music is a very special art. Its true goal is to feed heart and soul. Music that touches me is music which makes me cry, laugh, dance...Unfortunately, nowadays many artists want to be a successful star instead doing
what they like. People need to listen to music that touches them. But music industry is changing thanks to Internet. We'll see what happens, but my advice for young artists is they must be loyal with their vocation.