1300 Menschen fühlen sich wieder wie 16
Von unserer Mitarbeiterin Cordula Fischer
Trier Die alten Zeiten sind wieder da, wenn Roger Hodgson singt. Auch wenn er ohne seine legendäre Band Supertramp auf Tour ist, nur mit Partner Aaron MacDonald auf der Bühne steht - die 70er und 80er Jahre sind Gegenwart, 1300 Zuschauer beim vom TV präsentierten Konzert in der Arena Trier fühlen sich wieder wie Teenager.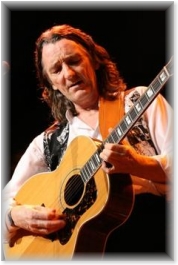 Er war Sänger und Komponist der Band Supertramp. Für seine Fans ist er "Mr. Supertramp". Seine Songs sind bis heute für viele treue Begleiter in allen Lebenslagen. Und letztlich ist Teil des Erfolgsrezepts, dass die Lieder zu Evergreens geworden sind und Menschen Erinnerungen und Emotionen damit verbinden. Ein Phänomen, das nicht alle Musiker für sich in Anspruch nehmen können. Roger Hodgson schon, dessen Stimme auch mit 60 Jahren und 28 Jahre nach seiner Trennung von Supertramp klingt wie eh und je und im oft populären Einheitsbrei immer noch einzigartig ist. Widererkennungswert: hoch.
Vermissen lässt Hodgson die Band im Hintergrund nicht, wenn er - nach dem Motto "wer die Stimme hat, ist die Band" - nur in Begleitung seines multiinstrumental talentierten Kompagnons Aaron MacDonald auf die mit müden Pflanzen spärlich dekorierte Bühne tritt. Aber wer die alten Weggefährten doch unverzichtbar findet, kann eines der 14 Konzerte der fast parallel, aber ohne Hodgson, laufenden Supertramp-Reunion-Tour "70 - 10" von Ex-Frontmann Rick Davies, Saxofonist John Helliwell und Schlagzeuger Bob Siebenberg besuchen, die es im Herbst in Deutschland geben soll.
Hodgson ist jedoch nicht dabei, da er die Band 1982 verlassen hat.
Seine Fans springen auf, sitzen schmusend nebeneinander, lachen, klatschen, weinen, träumen, pfeifen auf Kommando die Melodie von Easy does it mit. Ein bisschen dick aufgetragen, aber doch glaubhaft: Roger Hodgson liebt sein Publikum, vor allem das deutsche, das so "erwartungsvoll und ruhig" auf jede gesungene Note, auf jeden Hit aus seiner Feder wartet. Darunter die ganz alten Preziosen - Take the long way home, Hide in your shell, Lovers in the wind, Rosie had planned everything, Child of vision, natürlich The logical song, It's raining again, Sister Moonshine, Puppet dance, Breakfast in America -, aber auch bisher unveröffentlichtes Material. Das Publikum ist selig, da stört auch ein technischer Defekt nicht - die entstehende Pause füllt das Duo mit Gedanken über Südamerika, bis Hodgson kurzerhand den Ablaufplan ändert, das Keyboard links liegenlässt und zur Gitarre greift. Jeder Titel zündet, 1300 Zuschauer werden wieder zu Teenagern, es ist ein "Abend der Erinnerungen", so will es Hodgson.
Extra
Supertramp ist eine britische Band, die in den 70er und 80er Jahren ihre größten Erfolge hatte. Der typische "Supertramp-Sound" definiert sich hauptsächlich durch das synkopische Spiel auf einem Wurlitzer A-200 (elektrisches Klavier). Supertramp konnte bis heute über 60 Millionen Alben verkaufen. Hodgson verließ die Band 1982 und startete eine Solokarriere.
---
1,300 People Feel Like Being Sixteen Again
From our colleague Cordula Fischer
Translation by Christine Pinter and Miriam Mertiens
Trier. The good old times are back again when Roger Hodgson starts singing. Though he is touring without his legendary band Supertramp and shares the stage with only Aaron McDonald – the seventies and eighties are present, 1,300 people at the concert in the Arena in Trier, which was presented by TV, feel like teenagers again.
He was singer and composer of the band Supertramp. For his fans, he is "Mr. Supertramp". His songs are still true companions for all purposes. And finally one part of his recipe for success is that his songs became evergreens and people associate memories and emotions with it. This is a phenomenon which not all musicians can claim. Sixty years old Roger Hodgson can. His voice - even after 28 years of his split from Supertramp - sounds better than ever. And it still is unique and outstanding in between all the popular mainstream music. Recognition value: high.
Hodgson did not let the audience miss the band in the background. Following the slogan "he who has the voice is the band" he enters the stage, only accompanied by the multi-talented Aaron McDonald; a stage that is only scarcely decorated with plants. But those who still don´t want to miss the old mates can attend one of the 14 Supertramp-reunion-tour "70-10"concerts that will take place parallel to Roger´s tour . The ex-leader Rick Davies, saxophone player John Helliwell and drummer Bob Siebenberg will play Germany in autumn.
But just without Hodgson who left the band in 1982.
His fans jump up, they smooch with each other, they laugh, clap, cry, dream and start whistling the melody of "Easy does it" like on command. A bit extreme but surely believable: Roger Hodgson especially loves his german audience, that is "calmly and full of expectation" waiting for each note and for each hit Hodgson composed. Among the songs are hits like Take the long way home, Hide in your shell, Lovers in the wind, Rosie had everything planned, Child of vision, The logical song (for sure!), It´s raining again, Sister Moonshine, Puppet dance, Breakfast in America – as well as yet unpublished material. The people in the audience are over the moon. Because of a technical malfunction there was a break but even that didn´t bug the audience. Onstage Roger and Aaron filled the compulsory break with thoughts about South America until Hodgson quickly changes the schedule, leaves the keyboard aside and grabs the guitar. Each and every song hit home; 1,300 spectators become teenagers again. "It´s an evening of memories", so Hodgson says.
Extra
Supertramp is a british band that celebrated it´s biggest success in the seventies and eighties. The typical "Supertramp sound" mainly defines itself through the hammering keyboard sound of a Wurlitzer A-200 (electrical piano). Supertramp sold more than sixty million records up to now. Hodgson left the band in 1982 and started his solo career.
Photo-Text : A voice with recognition value: Roger Hodgson feels and lives every single note.